We have an exciting announcement to make.
We're thrilled that Andrew Malouf has returned to us at Home Estate Agents and has re-joined our team as a Senior Sales Consultant.
Possessing a strong and diverse background in property management, residential sales and project marketing, it's Andrew's professional, honest and intuitive approach toward all real estate matters that allows him to consistently deliver exceptional results
If you're a Maroubra local, you will probably know Andrew from his active support of local businesses or from his dedication to real estate across the Eastern Suburbs.
Home truly is where the heart is.
After a short break away, Andrew is back and has brought with him his signature passion and vigour for property!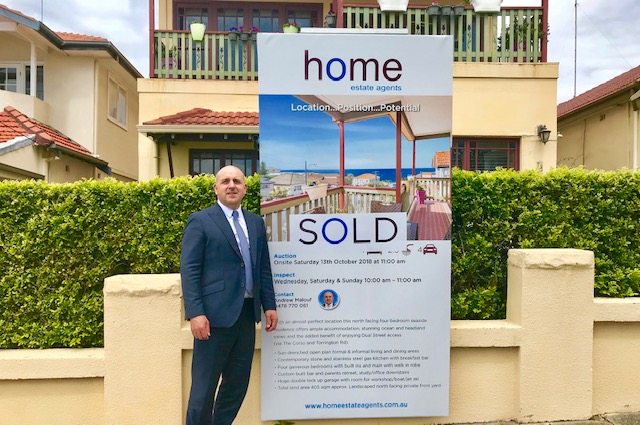 S O L D Andrew Malouf hit the ground running – welcome back to home estate agents.
As one of Home's Sales Consultants, Andrew understands that time management and excellent communication is crucial in securing the very best outcome for his clients, each and every time, especially in a marketplace that is forever changing.
When you work with Andrew, you're guaranteed a comprehensive and highly tailored experience, with a wealth of expertise that you can leverage upon to achieve your real estate goals.
We're glad that you're home, Andrew, and look forward to an even brighter future together as we serve our local suburbs and meet their real estate needs.
How can Andrew and the Home Estate Agents team help you?
At Home, we're passionate about helping our clients fulfil their real estate goals.
We'd love to be a part of your journey and help you get the best outcome, so if you have any questions, or are looking to buy, sell, rent or lease, please give us a call on 9349 7177 or click here to contact us.
We look forward to working together with you soon.